"Grouchy's Really Bad Day" is a story that is part of the EMPATH: The Luckiest Smurf story series.
Plot Summary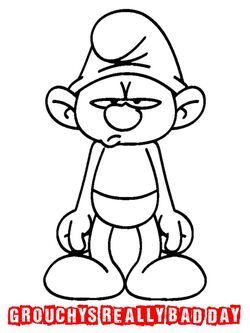 Grouchy Smurf is having a really terrible day, and he's taking it out on all his fellow Smurfs in a horrific manner that leaves his closest friends -- Empath, Smurfette, Tapper, and Duncan McSmurf -- shocked at all the violence he caused. What could make Grouchy decide that the best way to handle his problems is by killing the other Smurfs?

Notes
The story is loosely based on the idea of Destructive Creations' Steam-released videogame Hatred as well as the Michael Douglas movie Falling Down.
Story
Pending...